You are here:home > Company News > Pruduct's Detail
FAW Wuxi Diesel see how to create excellent, excellent, high-end "quality benchmark"
---
In the wave of social, fearless Zhiyong who is so great, in your character Maria; fight in the market, innovation and entrants is so great, and finally to the quality of run-off. FAW Wuxi Diesel Engine Factory, following the 2015 won the National Quality Award, and the "quality benchmark" assessment activities Ministry of Industry and Information Technology Ministry recently undertaken, which declared "based on Total Quality Management Performance Excellence Model of practical experience." , by recommendation, expert evaluation, corporate site and online publicity and other aspects of defense, was named the 2016 annual national industrial enterprises "quality benchmark."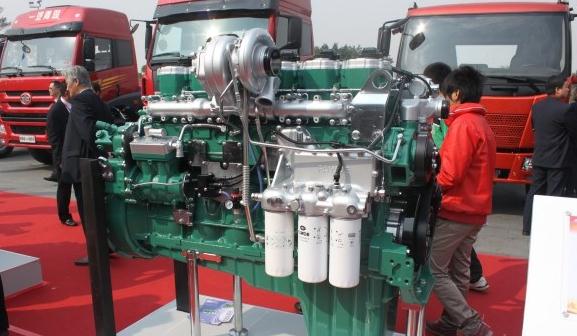 FAW Wuxi Diesel see how to create excellent, excellent, high-end "quality benchmark"
We can say that over the years XiChai quality management excellence, has accumulated a unique cultural XiChai quality, product quality indicators are among the best out of the countries, with the international advanced level flat. Its engine products to market success, not only become the market selling products, and the first export sales increase among the forefront of the industry sector, the national automobile industry, FAW added a new bright spot.
So, how XiChai excellent performance mode, turn on the pursuit of quality and excellence in the development of the road?
Stringent quality standards leading the pursuit of excellence
Targeting high-end, the pursuit of excellence.
"XiChai pursuit of excellence in quality management goal for a long time, around the 'leading quality standards' goal, has gradually established excellent quality management system." Reporters came to the bright and spacious XiChai warranty center building, with warranty Ministry technical staff talked about "harsh new XiChai quality standards," they said, "the new quality standards XiChai current implementation, compared with the industry, has been at the forefront of the domestic counterparts; compared with the past, leaner , scientific and modernization. "
In fact, as early as in the "five" period, XiChai formulated the "quality leader" strategy, through the introduction of foreign advanced design and implementation of development quality processes, so that the quality of design to achieve the advanced level, cleanliness testing standards to achieve domestic advanced level.
"XiChai new product development project must be the job through nine quality door! New product development project is only through a door to enter the next development process. Modification must pass the new assembly, seal performance and quality review, solve every scene after quality problems, the factory to work properly! "quality assurance department technician said.
XiChai quality of work has a clear general idea about the quality improvement, Xichai to "five leading" namely the design quality leadership, leading quality standards, quality control, leadership, quality cost leadership, quality culture leading target for the design, procurement, four points in manufacturing and management of change points and weak points, to find a breakthrough.
In quality management, performance excellence model XiChai already imported, and continued to advance. In particular, the implementation of quality system management review to optimize the organization, process reengineering and other decision-making levels, continuously optimized and improved, the establishment of "two three arrested, the implementation of a" quality control model for product quality improvement laid the organizational guarantee.
In strict accordance with the process to go, does not violate the process of doing things. This is XiChai repeatedly stressed the principle and execute. In the "Aowei" series of new engine development process, Xichai people will be "quality" concept throughout the entire product life cycle is always, and absorbing advanced foreign experience in the development, development process, combined with the characteristics of the plant, established three generations of his development process, and in strict accordance with new product development processes.
Xichai from the design, development, verification source, firm always quality. Lock key indicators of performance, reliability, system risk analysis, evaluation design is reasonable, analytical soundness, measures the feasibility test adequacy, consistency of production, ensuring the quality of the new step.
"Iron fist" grasp the quality is consistent adherence to quality XiChai behavior. In the eyes of the people XiChai, product quality like life is priceless, people will XiChai quality as a belief, on the quality of work has a systematic, long-term planning. From quality planning as a guide to develop annual quality outline, and the development of specific quality at an annual outline of command, quantified objectives and tasks book, this set of interlocking combination of boxing, so that the quality of work XiChai has always been clear context the full control, without leaving any flaws.
Chi-made ingenuity to give the product good genes
In ancient times, "craftsmen", and many more ingenious unique concept, superior skill Kyo, they are obsessed with quality, enjoying the product in the hands of the sublimation process. XiChai pursuit of high quality and can be described as "reaching perfection, reaching make the United States" –
Into Joint Plant Xichai Huishan heavy diesel engine production base in this area of ​​nearly 50,000 square meters of heavy machine production base, people perceive the "Chinese wisdom made" a powerful force. Its world-class modern production line, but also to show the world the highest level of China's automobile industry.
Related technology leaders responsible for the quality of the presentation, where the production line professional, intelligent given the inherent power XiChai good genes, machining line set agility, efficiency, automation, information technology in one, the manufacturing level in the world. leading position.
XiChai in people's eyes, in the manufacturing quality control, and prevention is the core specification. To ensure high-quality, heavy machine production line is not only the use of laser machine Aowei error prevention, error proofing photographic quality information collection system and a number of central processing error prevention technology, but also through the station monitoring, critical dimensions by the Marposs line Detector inspection, and quality standards for European companies as a comparative standard to strictly control their quality indicators meet the quality indicators. Also the use of standard operating instructions, error proofing, process control (SPC) and other quality control system, advanced the concept of quality, stringent quality standards, the scientific quality assurance methods, the "quality culture" concept throughout the entire product life always cycle with strict quality management system to standardize the quality of behavior in order to ensure high-quality iron-fisted efforts Xichai machine.
Ensure high-quality XiChai machine, not only by high-precision equipment, closer to the quality standard process.
Into CA6DL machine shop, the same tone in white placed in an orderly job site logistics, site signposted. Reporters approached the work area, the information card suddenly comes into view, there is quantized and curing business processes, which show that its fine quality management practices.
CA6DL machine shop, each post has a "standard operation" and perform quality assessment 100 minutes pass system, the workshop for first article inspection from equipment maintenance, tool change, change type of production, shift operation, program modifications and other aspects detailed provisions on the processing procedures and measurement procedures for the preparation, commissioning validation, call the production, modification, backup and archive storage for process control. Through this series of process control, ensure that the "Aowei" high-quality self-made parts.
"In order to achieve cleanliness and machine parts business standards, specifications and even assembly plant white glove cleanliness requirements and curing process the file." In the assembly plant, in charge of the technical quality of the relevant leaders said, "To enhance the internal turnover station equipment cleaning degree, organized the workshop staff have been tackled 48 weak link problem. workshop also covered by the application error prevention technology, electronic technology, standardized testing process to establish quality control, quality warning point and other measures to ensure the quality of the whole process of assembly controlled. "
Quality is the "life" and "life" only once. Such a definition has been firmly rooted in the hearts of all XiChai.
Users praise the achievements of high-quality labels
Interpretation of high quality, create quality classic.
Continuous technological progress and improve the quality management system for quality XiChai keep practicing to create the conditions to ensure a stable output to market high-quality products, creating a "XiChai" well-known brands, such XiChai power best-selling products, in each segment multi-faceted flowering, three brand products are exported overseas, continue to release the brand magnetic charm.
10 years ago, a car equipped with an engine XiChai Aowei liberation car came to Hotan, in sinister desert, baked in the sun, riding for nine years, a record 2 million km without major repairs miracle. By "physical", the test data are within the scope of the assessment indicators, but its mechanism is still full of vicissitudes appearance surging vitality!
After a lapse of three years later, in 2016, high-quality user XiChai House – one million kilometers Aowei club since its inception rapid development, more and more users and a successful "one million kilometers without major repairs," in all directions "fresh blood "continuous injection, the legendary co-writing a wonderful Aowei machine. As one member of the Henan Puyang Pengzhong Feng Aowei XiChai machine soft spot for him, not without pride, he said:. "I'm a total of 26 men's 350-horsepower machine XiChai Aowei liberation car"
"XiChai Aowei heavy truck engine is the power of the king." Is also "Aowei" one million kilometers club members Zhengzhou-kun Logistics Ltd. Geng, general manager of the school is the quality of XiChai Aowei machine believer, choose subsidiary dedicated 149 machine equipped XiChai car. This year, he even bought another 15 loading machine 13L XiChai Aowei liberation J6P-500 vehicles.
"Zhengzhou to Meizhou 3400 kilometers back and forth, when fully loaded, XiChai CA6DM3 machine on average less than 35 liters, more importantly, is the driving force significantly improved, not uphill shift can also be easily achieved." Geng said school.
"I want to give XiChai 'Aowei' point machine praise!" From the Chinese city of Shenzhen, opening up important Andao Long Logistics Co., Ltd. Zhou Jun comes to the car to refer to "buy the right machine XiChai Aowei car! "
Zhou Jun is known as the logistics professional large southern regional center of the city, the company has a fleet of more than 40 XiChai 'Aowei' machine liberation J6 car, recently bought a batch of carrying XiChai "Aowei "13L engine FAW J6P-500 vehicles.
"This is not only XiChai horsepower engine, can also reach the maximum torque at low rpm – at 800 rpm, the maximum torque can be achieved 1800Nom, compared to 460 hp uphill models can save 1-2 gear bit manipulation easily improve transport efficiency. "Zhou Jun said.
A sentence "thumbs up" words, tells countless XiChai engine voice of the user. In fact, many, overseas markets can be found everywhere XiChai machine hardcore fans, "XiChai" gained full popularity and reputation, but also to inspire cooperation OEMs, orders pour forward.
In this era of relying on product strength to speak, whether the temperature is below minus 30 ℃ northeast, or the temperature is higher than 45 ℃, hot and dry desert area, loading machine XiChai Aowei heavy truck can do a strong, low consumption, durable. Lets the user convinced that XiChai "Aowei" brand with the world through the same displacement products for professional benchmarking, benchmarking results show that: the overall performance considerably, "Aowei" machines on fuel consumption is also slightly better; in product reliability, reliability index -12MIS latest failure rate 256.7, has reached the international advanced level; in product durability, B10 life XiChai "Aowei" machine far more than competing products.
Ingenuity, every jump, are years of precipitation, high-quality grinding, let XiChai products labeled "high quality" label, so that "quality benchmark" to name but deserved.
related suggestion:
 You Are Here:Home > Latest Products
Tags:
Dongfeng Trucks